Click on an item below to learn more.




Contact Info:
Cheryl Falkenburry
Cheryl's Phone:
434-591-6113
cheryl@indelilahseyes.com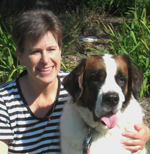 Cheryl and Delilah
Learn more about Cheryl


Serving the needs of dogs, cats, and their humans.
Book Signings
August 8, 11-1 (event is 10 - 2),
Project Pet at the Best Western at Zion's Crossroads, Louisa, VA. Go to
Project Pet
for more information. Cheryl's book sales will benefit Animal Connections.
August 15, 10:30 - 12,(Event is held from 9 - 12.)
Dog Days of Summer, Fluvanna County Dog Park, 326 Trailhead Road, Palmyra, VA. 50% of book sales will go to the water fund for the Fluvanna County Dog Park.
Directions to the park
August 21, 8:30 - 4:30,
Animal Law Seminar, Omni Hotel, Charlottesville. Registration is required. For more information go to
www.vacle.org.
50% of book sales will go to the Virginia CLE.
September 5, 1 - 4,
FSPCA 20th Anniversary Celebration, Keswick Vineyards, 1575 Keswick Winery Drive, Keswick, VA 22947. Go to
www.fspca.blogspot.com
for more information.
September 12, 11 - 3,
Pause For Paws, Best Western Airport Inn & Suites (5929 Seminole Trail,Rt 29) to benefit the Madison-Green Humane Society. Go to
www.madisonhumanesociety.net
for more information.
October 3, 10 - 4,
Old Farm Day, Pleasant Grove, Palmyra, VA. Look for the Caring For Creatures tent. 50% of book sales from Old Farm Day will benefit the animals and programs at Caring For Creatures Animal Sanctuary. For more information go to
www.caringforcreatures.org
October 10, 10 - 4:30
DogFest to benefit the Baltimore Humane Society.
Go to
www.dogfest2009.org
for more information on the event.
Look what people are saying about
In Delilah's Eyes

Finally, we learn it from the dog!
July 24, 2009
By zookeeper (Palmyra, VA USA)

We've read several dog training books and watched videos and even attended classes, but this is by far the simplest, most concise instructional tool we've had thus far. The insights from the dog's perspective help us to understand the WHY's that make all the difference between success and failure in our relationship with our dogs.

Learn through a dog's point of view
July 22, 2009
By Tailer's Mom (Tampa, Florida United States)

I read this book because my grand daughter has a new dog, and I wanted to see if this would be a good book for her(she is 12). I found that it was written for all ages, and I even found some ideas I am using on my cat!

Delightful Delilah!
July 9, 2009
By Bonnie Taffe

The book, "In Delilah's Eyes" was recommended to me as "a fun book to enjoy whether you have a dog or not!" I couldn't put it down and laughed all the way through. I also wanted to go out and get a dog so that I could use all the helpful information. This is a book that trains the human as well as the animal! The pictures of Cheryl, the author, and her wonderful dog, with practical step-by-step instructions by Delilah are fantastic as well as the art work and the way that Delilah has of expressing herself! This is a delightful book. Thank you Delilah and Cheryl. I hope there will be future books by this talented author.